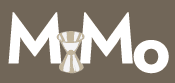 Mixology Monday revient pour la soixante-cinquième fois et, cette fois-ci, le thème, proposé par Fred Yarm de Cocktail Slut, est un très simple et très succin "equal parts" - des cocktails dans lesquels les ingrédients sont utilisés à parts égales. On pense tout de suite au Corpse Reviver (voir d'ailleurs la variation proposée par nos amis de Cocktail Molotov), au Negroni ou au Last Word. C'est un twist sur ce dernier cocktail que nous avons décidé de réaliser. Il s'agit du Naked & Famous (un nom qui garantit les hits google) créé par Joaquin Simo au Death & Co à New York. La recette ne saurait être plus simple mais le cocktail est complexe...
(For our english-speaking friends: to a simple theme, a complex cocktail, with Joaquin Simo's Naked & Famous. No need to translate the recipe, save for the "citron vert" - it means "lime")
3 cl de mezcal
3 cl d'Aperol
3 cl de Chartreuse jaune
3 cl de jus de citron vert
Verser les ingrédients dans un shaker rempli de glaçons, agiter longuement, jusqu'à ce que vos mains soient collées au shaker. Servir dans un verre à cocktail et garnir d'un quartier de citron vert.
A l'autopsie, les ressemblances avec le Last Word s'arrêtent à un ingrédient et demi: dans le verre, les deux bêtes ne se ressemblent pas des masses. Passer de la Chartreuse verte à la jaune est certainement logique: le mezcal a besoin de moins d'aide herbacée que le gin, bien plus civilisé. Le changement le plus significatif est celui qui nous porte vers l'Aperol. Une liqueur de marasquin, surtout quand elle est bonne, donne au Last Word une dimension vraiment funky. C'est elle qui fait (et défait) le succès du cocktail. Ici, dans le Naked & Famous, l'Aperol civilise le mezcal, laisse une légère trace d'amertume et surtout d'orange qui rend l'ensemble très, très facilement buvable. Il est particulièrement important d'utiliser un bon citron vert pour le jus, car c'est lui qui va lui donner toute sa vivacité - j'ai d'ailleurs triché un peu et ai rajouté quelques gouttes de jus en sus des 3 cl prévus.